As I build up for my marathon in March and Comrades (fingers crossed) in June, I have to do longer and longer runs. I started to try and find races that were of the equivalent time or distance I needed to run. Today called for a 2 hr 40 min run, so I signed up for the Mansfield Run With Heart Half-Marathon.
This is probably the most convenient race I would even find to do including shorter distances. It takes place just a 5-10 min drive from my home.
There was only one negative to the whole experience and it was around the packet pickup. Their website indicated that packet pickup could be done on Thursday at Academy Sports from 11 am. I got there around 11:45am and no one was there. The store employees mentioned that other runners had also come by to try and get their packets. It turns out that they had wrong information on their website, or perhaps they originally planned to have a packet pickup on Thursday but changed their mind. I was able to get my packet on the Friday.
On race morning, I had a decision to make…what to wear. The temperature was around 40F. I was originally going to go with tights, but I decided last minute to go with shorts and just two layers on top. A short sleeved t-short and a long-sleeved over it. I think this was the right decision. I was a bit cold while waiting for the race to start and for the first mile or so, but after that I was dressed perfectly.
As I'm accustomed on my long runs, I carried all my fluids, SOS Hydration, so I didn't need to depend on any water stops.
My race started well. I was very concerned about going out too fast. I wanted to run this like a normal training run so I focused on that for the first two miles ensuring my pace was where I wanted it to be.
I was in for a shock after the first mile. I had two overpasses to go over. I ended up walking to them and taking advantage of the downhill on the other side. I ended up averaging right around 11 min miles for the first 8-9 miles. It seemed that I was constantly going up hill. Who would have thought that Mansfield had so many hills?
Around mile 9 I had to start taking walking breaks….the first since the initial overpasses I had to go over.
Once I got to the two hour mark, I realized I could finish within 2:30. I ended up finishing in 2:29.
In the end, I was glad I use this as one of my long runs. It was much more enjoyable, and it seemed easier to do the long run with other people around. They provided good pacers once I found folks that were going at my pace, I just hung back and followed them. Towards the end, the folks up ahead provided great motivation to try and either keep up or even pass them. I managed to pas 2 people within the last 100m.
If I find myself needing (or wanting) to do a half-marathon in January 2021, I wouldn't hesitate to do this one again.
Addendum – Jan 27, 7:15am– Well, in looking at the results for the race, it appears that I have a second complaint about the race. They show me as not having actually done the race. I wore my bib on the front of my t-shirt. The back had the timing chip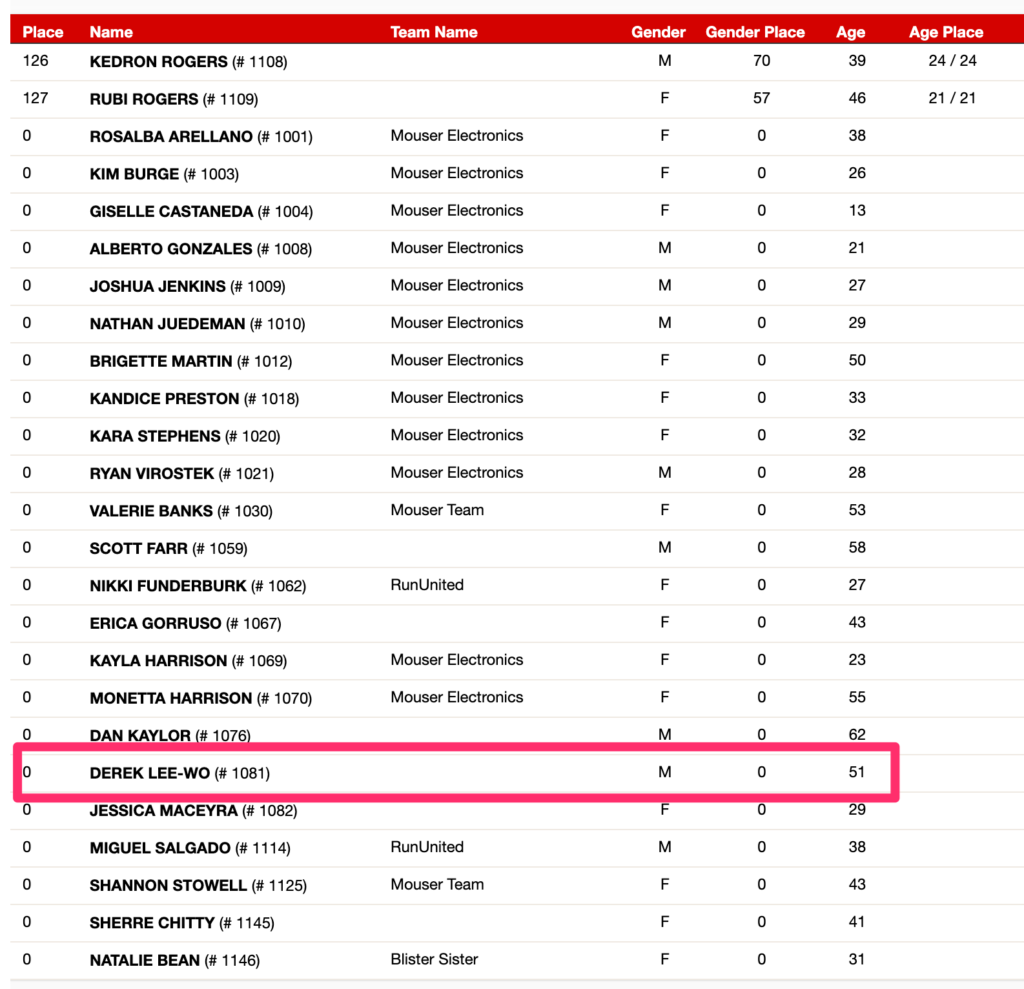 I have reached out to the race organizer to try and figure out what is going on. It's strange….this is not a race I tried to get a PR and it was only a training run, but not seeing my name amoung the list of participants with an official time is quite distressing.
Addendum – Jan 29 – My race results eventually got posted